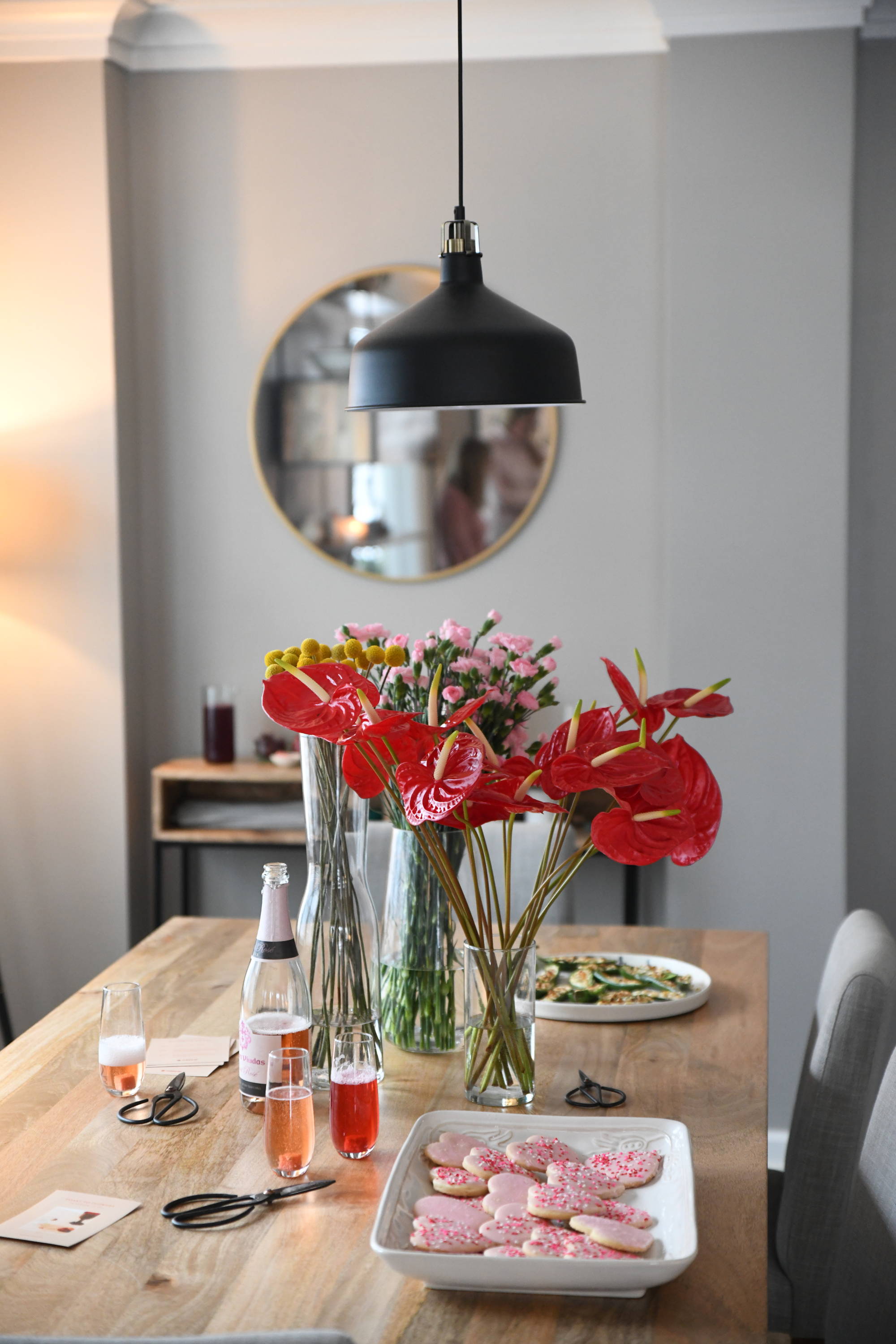 Every Flower Fête is delivered like Blue Apron® and comes with the flowers, supplies and how-to videos for you to throw a flower arranging party in your home.
It's time to rally the women in your life, toast to friendship and living your best creative lives.


get flower prep + party guides in your inbox

your flowers are delivered to your doorstep

play our how-to video to guide the party through flower arranging
we take the work out of planning, so you can enjoy more of what matters.
what's included in your flower fête

---
Your flower fête will include all the flowers you'll need to create 6, 10, or 14 arrangements—one flower arrangement per guest.
Now offering Flower Fêtes for 1! Self-care nights in, anyone?
---
Every flower fête will include floral supplies to create each arrangement. Things like; floral wire, floral putty, metal flower frog, a small vase and cardboard boxes for safe transport home.  
All you'll need to gather are water buckets & scissors to share.
---
Our flower fêtes are designed to empower you and your party to be the florist. We include a video tutorial that will guide and inspire everyone with the confidence to nail it.
All you have to do is push play when your party is ready to create.
Add two more flower arrangements to your Flower Fête—for FREE!
 
Invite everyone on your list.
Sign-up for rewards below.

Thanks!
This field is required
This field is required
We're all about helping you create the right vibe and host a party that's about what matters.

Every fête will include, email guides for flower and party prep. Think the right vibe playlist, a cocktail recipe and everything you need to know to care for your flowers.
We do not include floral scissors or water buckets in your flower fête.
We will have recommended pairs available for purchase on our site launching in May.
We choose flowers that are easy to work with so you won't need any special flower snippers. Reach out to friends to see if they're able to bring their own pair. Regular scissors will work great for our fêtes.
How do I choose a date  for my Flower Fête?
Flower deliveries are scheduled on Thursdays, unless it's a Holiday.

You'll choose the date that corresponds closest to your party date. For example, if you want to throw your Flower Fête on Saturday, you'll want to choose the Thursday delivery that is days before.
How do I know when my Flower Fête is being delivered?
You'll received your flowers on the delivery date that you choose in your shopping cart. Deliveries are on Thursdays, unless there's a Holiday. You'll receive email notification of your flower delivery. We'll follow-up with a confirmation on a delivery time that works for you.

We deliver between 9 am - 9 pm.
My flowers are Here, now what?
Yay! Get ready for your home to smell incredible and look like a flower market. When you purchase your Flower Fête, you'll start receiving emails to guide you through fête planning, flower prep and day-of guidance.

We'll guide you through our tips for flower care and prep for party time.
How do I get the instructions and videos for the flower arrangements?
You'll receive video access within an email leading up to your Flower Fête! You'll also receive email guides leading up to your party.
Can I order just one arrangement?
Did someone say party for 1?!

We've got you covered if you want to go at it solo. It's perfect for a creative night-in of self-care or if you're hosting a party and want to include an arrangement made by you.
Do you offer an in-person workshop type Party?
If you're looking for in-person, hands-on help with your flower fête, give us a shout at hello@heroineflowers.com. We'd be happy to create a custom quote and help you throw your Flower Fête. Please give us 3 weeks prior to your Flower Fête date.
flower fêtes In Real Life
Looking to see more real Flower Fêtes? We're featuring you!

Find real Flower Fête parties in our Instagram highlights.